Character: Aurelius, Ace of Sumatran Tigers (Keki)
Artist: Piru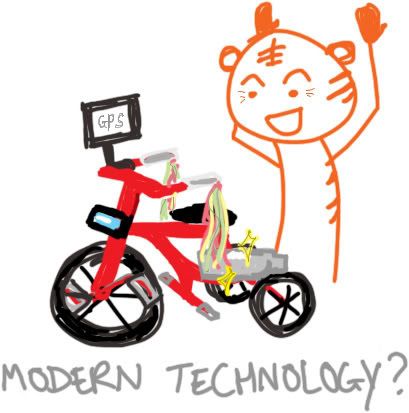 Rell: "BRILLIANT! Now I'll never have to worry about getting lost."

A tricycle with a GPS system? xD;; And some kind of a rocket motor and a headlight?

This tricycle seems a bit too fancy (and dangerous) to actually have a ride on. xD
but draw something with technology, futuristic technology
Mar, over and out.
Next week, theme picking duities are for
empty_tank1313
IT's wednesday! early Wendnesday for me...sorta...it's 6 so...


The theme this week is
...........
..........
.........
........
.......
......
.....
....
...
..
.
Bloodbath!

That's right folks, Bloodbath! is this weeks theme! Be it literal, figurative or whatever post your doodles up!

The person who is in charge of next weeks theme is: DICHIGO88!!!!

Now get to work!
Hallo alles! It's Wednesday and I have the duty of informing you all of what this weeks theme is! I bet you're all dying to know!
Current Mood:

jubilant
Character: Vaux, Ace of European Otters (Piru)
Artist: Piru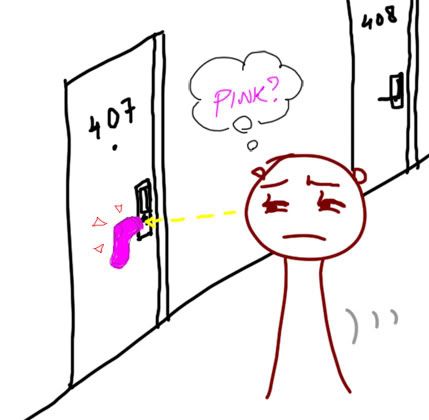 Vaux: ".. Don't tell me that sock is there because of Disney..."

Disney? Now WHO could he ever be talking about? xD

A sock on the doorknob suggests bed-activity in progress, which makes all of this very very disturbing.
Socks
Characters:
Toné, Ace of Gila Monsters [Mar], Mankato, Ace of Timber Wolves [Wingy]
Artist:
Mar
Toné: And that's why i don't like wearing socks
Mankato: Uh-huh...:scribblescribble:
Yeah, this is what i thought of after decided i wouldn'tgo the pervy route.
The Sock chasing Tone is based off the people from the Go-Go- Gadget Gospel music video
:whispers: my next one won't be so big.... :goes to resize it a bit:
PirateJen
, but because she's not able to, I'm posting it for her. PirateJen chose:
Socks!
Woohoo. I certainly know what to draw, eheheh. >8D
And next week's challenge will be chosen by
ZAPHIKIEL
!
Remember to post next week Wednesday!
In case you were wondering how the "candidates" are chosen, we're going down the member list alphabetically:
http://community.livejournal.com/pandoodles/profile
Post up ya doodles, everyone!
This week's weekly art challenge theme has been chosen by
2007/Week 2 - Safari
Character: Ikou, Ace of Thomson's Gazelle (Piru), Kaiga, Ace of Jaguars (Piru), Vaux, Ace of European Otters (Piru)
Artist: Piru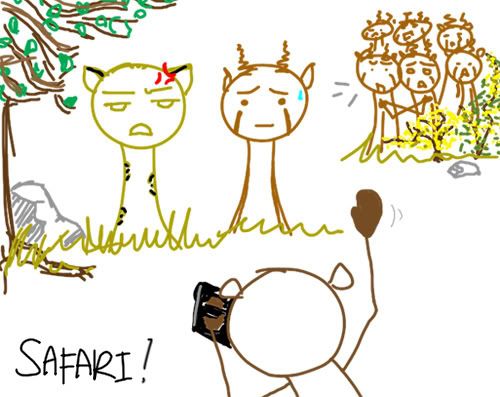 Vaux: "Oooh! I've got a leopard in sight." *films it*
Kaiga: "Ugh. You STILL can't see the difference between a leopard and a jaguar?"
Gazelle in the BG: "RUN, Ikou! There's a gigantic cheetah standing right next to ya! RUN!!!"

This drawing just shows how much I know about african flora, ahaha.
The only african animal here is Ikou.. and his buddies in the back. xD;;
2007/Week 2 - Safari
Character: Arjuna, ace of Asian Elephants (robotboob)
Artist: piratejen



Safari leader:"And here we have a prime example of an…Asian Elephant!?"


So! The theme for this week is to be:

SAFARI!

Inspired by The Lion King, cause I love it so~ <3

Happy doodling~ :3
Ack, huge apologies for missing out a whole week. I had some minor issues at home which needed my attention.